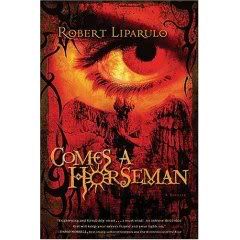 My copy of
Comes A Horseman
by Robert Liparulo just arrived 2 days ago. Not really enough time for me to give any kind of
real
opinion of it.
The cover piqued my interest. Just eery enough to give me the creeps, but not over the edge. The cover gave the impression of ancient evil. Which is a good thing (I found out after I read the back cover):
The Ancients saw death as a blazing figure on horseback, swift and merciless. Those facing the black chasm often mistook their pounding hearts for the beating of hooves.

Now, two FBI agents pursuing a killer from a centuries-old cult realize they have become his prey. To survive, they must ignore their own fear, their own hearts pounding in their ears...pounding like death, riding a pale horse.
I was interested.
I moved next to the inside of the jacket. If everything inside the jacket was blank except this next quote, I would have did a nose dive into the book:
With research so meticulous that investigation into the plot's secret society resulted in menacing phone calls to the author himself, Liparulo will plunge you into an entirely new type of thriller, capable of rattling even the most jaded soul.
You're on Bob!! You have just met "the most jaded soul" I'm Michelle. The former atheist who still craves horror novels. I want a book that WILL make me sleep with the lights on. There have only been a couple in my life.
I'm on chapter 10 right now and I'm in. You've got me hooked. Let's see if my soul will be rattled! I am SO ready!
What I'm really liking so far is the short chapters. The characters are already very real to me. I can picture them and I know enough about them that I'm starting to guess their quirks.
If you'd like to join me in getting rattled, drop me a line! We'll invite Bob over when we're finished!
Purchase Comes A Horseman here.
Visit Mr. Liparulo here.
(I found some exciting news here.) I don't get excited about a lot, but I thought the news was FANTASTIC!