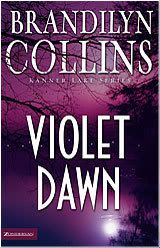 I've blogged about Violet Dawn before. Of course I have! I'm one-third of Jake Tremaine, retired logger who hangs out at the Java Joint on Main in Kanner Lake.
So as I sit here with my autographed copy of Violet Dawn, sipping coffee in my Kanner Lake coffee mug,
I'm wondering what more I can say about this great book. I could tell you that at the
ACFW
conference this past weekend, Brandilyn told me a little about the next book in the series. But I don't know if it was a secret and Brandilyn's manaical mind would have me killed off in a hundred and one different ways. And I say that in the most loving way. So I won't talk about
Coral Moon
this time. The back cover says that one of Kanner Lake's beloved citizen's is murdered so I'm wondering if it is one of the beloved SBG's (or
Scenes & Beans
Bloggers) and I hope I get to read it before March of 2007.
This is Violet Dawn's official time slot for the
Christian Fiction Blog Alliance
so maybe I should stay on topic.

I think the plot of the book has slipped to the back burner as I have become so attached to Jake. Because so many of my friends have parts in the character blog, I'm attached to their characters as well. (Don't forget if you'd like to write a character blog post, Brandilyn will give you the opportunity
soon
!) I've been so in tune with the characters that I've forgot that poor Paige found a dead body in her hot tub! I forgot that the whole town is searching for the killer in their midst. Kanner Lake is being turned upside down and somewhere out there, a murderer is lurking.
Violet Dawn was only the second book by Brandilyn Collins that I've read and it was because of the Chrisitan Fiction Blog Alliance that I was introduced to her. I am truly thankful for the opportunities this group of fellow Christians has offered. (There was a third, Web of Lies, by Brandilyn that I could have read, but Phil suggested that I not pick it up. It had spiders in it-from what he told me. See my previous post and you'll understand.)
Brandilyn writes some scary stuff and I LOVE her for that! She's got a great sense of humor and shows it often on her
blog
. She's discussed bee cemeteries, getting rid of pesky deer that eat your flowers, and killing the air conditioner man. He even called her back to give her more information. You'll just have to read the blog. I'm not telling any more!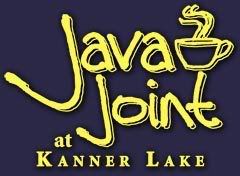 Visit us regulars of the
Java Joint on Main
and read about Wilbur's scar, Leslie's reporting, my retirement, and so much more!
Just in time! Brandilyn posted this picture of the SBGers on her site this morning! I'm stealing it!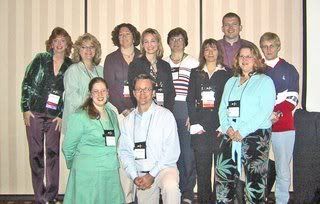 Kneeling, left to right: Chawna Schroeder (writing as Bev Trexel) and Michael Snyder (Leslie Brymes).
Standing, left to right: Me, Beth Goddard (Bev Trexel), Dineen Miller (Baialey Truitt), Jennifer Tiszai (Leslie Brymes), Marjorie Vawter (Sarah Wray), Pamela James (Bailey Truitt), Stuart Stockton (Ted Dawson, aka S-Man), Michelle Pendergrass (Jake Tremaine), and Kjersten Nickleby (Wilbur Hucks).
Purchase your copy of Violet Dawn here.